Not all antique Indian carpets were made by home-based weavers or at purpose-built craft centres. Some were the skilled work of prison inmates.
Today, these carpets are among the most valuable antique carpets to have come out of India.
Introduction of carpet making to prisons in Mughal India
Carpet making in prisons was first introduced during the reign of King Akbar between the 1520s and 1530s.
After learning that there was a lot of commotion and unrest in the prisons, he decided to reform the system by asking the carpet weavers he'd brought from Persia to teach the prisoners the art of weaving.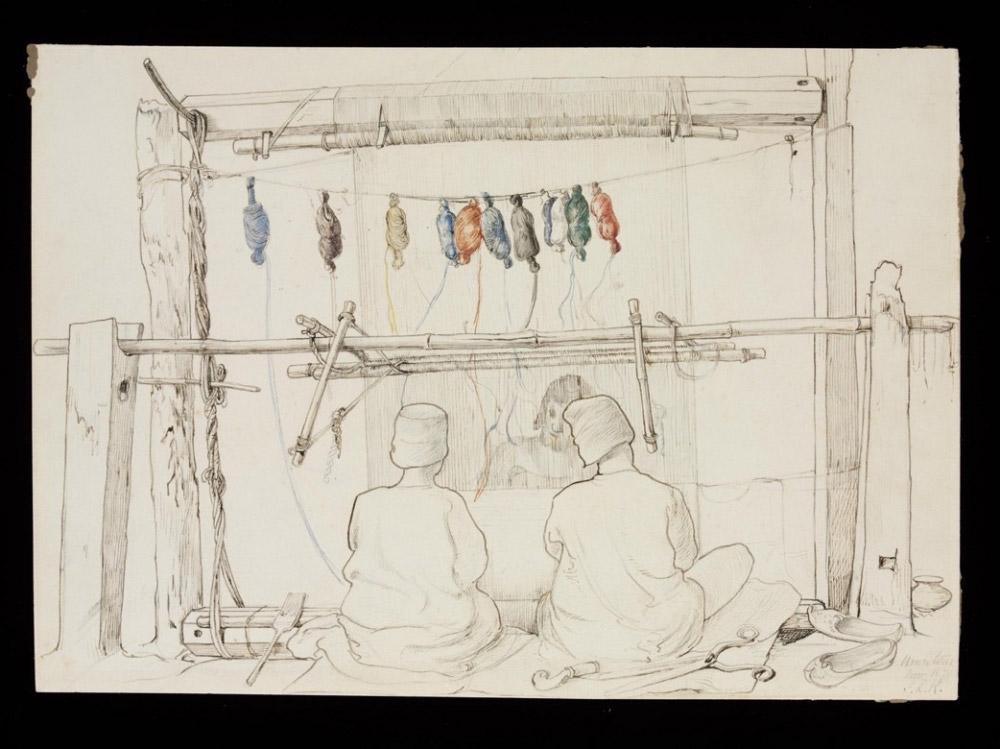 Three men from Amritsar jail working at a carpet loom, a sketch by Lockwood Kipling, 1870. Image source: Sahapedia
It didn't take the prisoners long to become even better weavers than their teachers. The imprisoned weavers took a great deal of pride in their work, which can be seen the exceptional quality and intricacy of the carpets.
At first, the style of weaving was very similar to the Persian style of fine knotting but over time, the weavers introduced Indian styles and the carpets took on their own style.
Detail of a "jail carpet", Jaipur, 1900. Image source: Sahapedia
Carpets from India during this time were very popular and were often sent abroad as gifts. Some of the carpets were so intricate, it could take a few skilled weavers years to complete just one.
Prison carpet making under the British Raj
Traditional carpet weaving wasn't as widespread in India by 1850 due to growing colonial influence. In 1854, at Jaipur Central Jail, carpet weaving was reintroduced as a way to reform prisoners. From there it spread across Rajasthan into jails in Ajmer and Bikaner.
An Indian carpet commissioned from Vellore jail in 1914. Image source: Sotheby's
All the so-called jail or convict carpets were handwoven on large looms using a series of knots. The weavers recreated popular designs and shared these patterns amongst the different jails making it difficult for auctioneers to pinpoint which jail a carpet might have originated from.
A late 19th century Indian Agra Carpet. Image source: C. John
By the beginning of the 20th century the practice was even more widespread and carpets made by prison inmates were highly coveted by important clientele.
The carpets were also sent abroad regularly as gifts or symbols of wealth and status.
The massive Agra carpet at Windsor Castle
One such carpet is the impressive Agra carpet at Windsor Castle.
The carpet was made at Agra gaol in November 1893 and was sent to Windsor Castle for Queen Victoria's Golden Jubilee by Lord Lansdowne, the Viceroy of India at the time.
Image source: Sahapedia
The carpet is thought to be the largest seamless carpet in existence. It measures 23 x 12 metres and weighs a whopping two tonnes.
Since being installed in the castle in 1894, the carpet has been removed only twice; once because of a fire and a second time to allow maintenance work in the room.
What we offer at Chelsea Cleaning
At Chelsea Cleaning, we don't make, sell or trade in antique Indian carpets – although we do love carpets and their interesting histories!
What we do offer is professional fitted carpet cleaning, as well as a convenient rug collection and cleaning service. We also clean curtains, upholstery and mattresses.