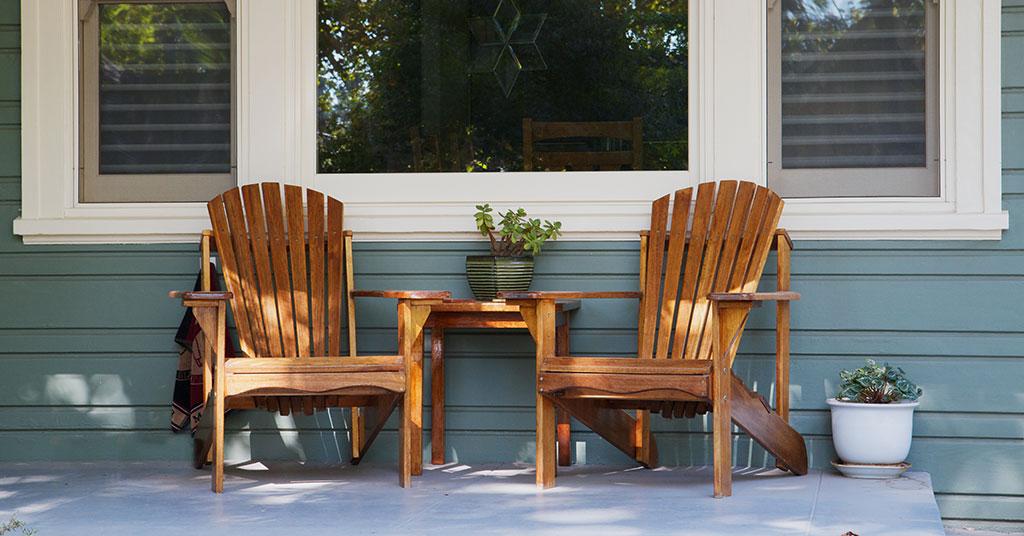 Outdoor rugs, cushions and patio furniture are exposed to the elements, so they require more frequent cleaning than indoor furnishings. They quickly gather dust, dirt and bird droppings. It's essential to know how to clean outdoor furniture correctly.
Cleaning outdoor patio rugs
Ideally, rugs should be taken indoors when not in use. This limits the dirt and damp they're exposed to. However, they still need to be cleaned regularly.
Some lightweight rugs can be cleaned in the washing machine. Most rugs can be hand-washed in a tub before being hung out to dry. Check the care instructions on the tag.
Heavier carpets need a heavy-duty washer and a centrifugal dryer. It's best to leave those cleaning jobs to the professionals. Between deep-cleans, vacuum and beat rugs regularly to remove dust and debris.
Cleaning outdoor polypropylene rugs
Polypropylene rugs are made from durable synthetic fibres that are hydrophobic, so they repel water. This makes them ideal for outdoor use because they can handle getting wet and are easy to clean.
Source: TLC Flooring
Polypropylene rugs are essentially plastic. They can be washed with lukewarm soapy water and a sponge. Don't place a rug on the ground until it's completely dry or it may get mouldy. Hang it along the natural fold of the fibres to avoid creases.
Source: TLC Flooring
To avoid unnecessary washing, roll up and store a polypropylene rug when it's not being used. It won't lose its shape as easily as other carpets. Store it completely dry.
Cleaning outdoor cushions
Outdoor seating cushions and scatter cushions are usually made from hard-wearing, synthetic fabric, so they're water-resistant. Only use cushions that have been designed for outdoor use.
Regularly dust and vacuum outdoor cushions to keep them looking good. Most outdoor cushions have removable covers that can be machine or hand-washed. Always check the care label.
Cleaning bird poop off outdoor cushions
Bird poop should be cleaned off cushions quickly or it may bleach the fabric. Scrape off the poop. Use a paper towel if it's wet.
If the mark is big, remove the cover and wash it. Alternatively, spot-clean with a mild soapy solution and a sponge. Dab the spot but don't get it too wet. Remove excess soap and allow it to air-dry.
Cleaning mould or mildew off outdoor cushions
Damp air can cause mould and mildew on outdoor cushions even if they don't get wet. If your cushions have removable covers, machine or hand-wash in a mild detergent and a drop of bleach.
If they can't be removed, make a mild bleach solution in a spray bottle and spritz the mouldy areas. Wipe with a sponge and air-dry. Repeat for stubborn areas.
How to clean patio furniture
Most patio furniture can be wiped down with a cloth and mild soapy solution to remove dust and dirt before air-drying in the shade.
Here's what to consider before cleaning specific types of outdoor furniture.
How to clean cane furniture
Cane, wicker or rattan furniture is the least water-resistant. Take care not to soak it. After wiping it, treat cane furniture with linseed oil to improve its resistance to water and sun.
How to clean plastic outdoor furniture
Plastic outdoor furniture is completely waterproof. It can be washed and rinsed before air-drying. However, don't dry it in direct sunlight. The plastic will perish over time.
How to clean metal outdoor furniture
Wipe down metal furniture with a wrung-out cloth so excess water doesn't sit in grooves and gaps. Rust spots should be removed with steel wool or a wire brush.
How to clean wooden outdoor furniture
Wooden furniture can be wiped down with a damp cloth. Regularly treat wood furniture with varnish or wood seal to stop dirt and spills from soaking into the wood.
When to get professional cleaning help
Regular cleaning of outdoor items should keep them looking good.
Ideally, fabric items, such as rugs and furniture cushions, should be given a professional deep clean about once a year to keep them in peak condition.
Items that have been left outside without being cleaned will need an extra deep clean to remove water stains, ingrained dirt and mould. Also, furniture that has been exposed to the elements for a long time might need to be repainted or recoated by professionals.
Rug and upholstery cleaning with Chelsea Cleaning
The end of summer is an ideal time to clean outdoor rugs, cushions and patio furniture. These items can then be stored away  or covered safely until they're needed again.
At Chelsea Cleaning, we don't offer cleaning of plastic, metal or cement furniture or décor items.
However, we do offer professional deep-cleaning of all rugs, carpets, curtains, mattresses and upholstery, in and around Cape Town and the Helderberg area. Contact us for more information or a quotation and we'll be happy to help.
Contact us now