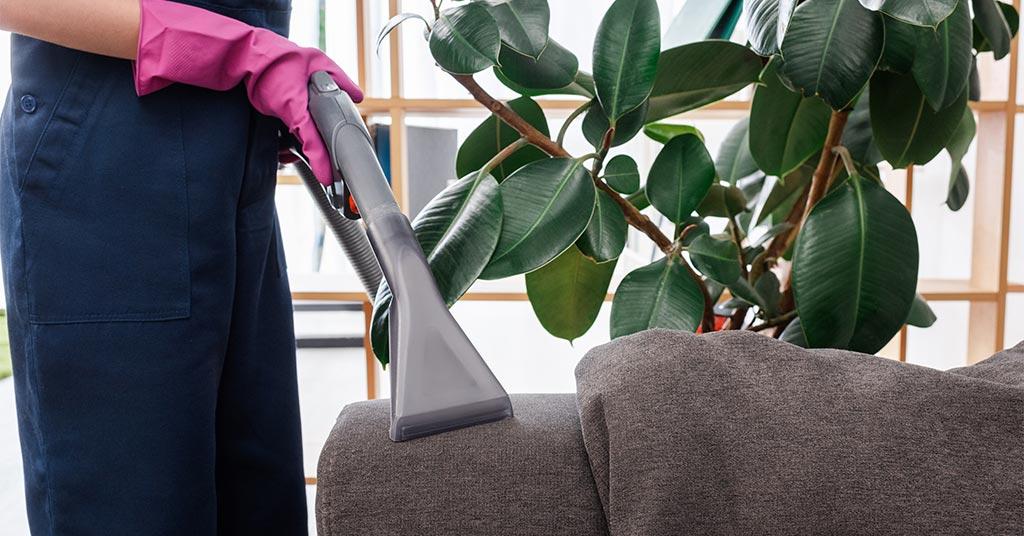 You have to think about more than aesthetics when choosing upholstery fabric for sofas and other items of household furniture. Some of the most attractive fabrics aren't the easiest upholstery fabrics to keep clean.
As an upholstery cleaning company, we know our velvets from our velours. Here's our guide to choosing fabric for upholstered furniture.
Factors to consider when choosing upholstery fabric
It doesn't matter how beautiful an upholstery fabric is if it isn't practical. The most stunning silk will lose its appeal if it gets covered in sticky fingerprints or dirty paws.
Consider how you live and how the upholstered furniture will be used. Who will use it and how often? Does the fabric need to be durable? Will the upholstered furniture be vacuumed regularly? Will you be able to use an upholstery fabric cleaner on it?
Easiest upholstery to keep clean
Any fabric can be used to upholster furniture that doesn't experience much use, such as a headboard or a bedroom chair.
Upholstered furniture in high-traffic areas, such as family or living rooms, needs durable fabrics that are easy to keep clean.
Cleaning upholstery at home isn't always easy. The easiest upholstery fabrics to clean are synthetic microfibres.
Natural fabrics, like wool, cotton and linen, are durable and can be treated for stain resistance, but they're not easy to clean.
A cotton- or linen-blend upholstery fabric offers greater practicality and stain-resistance. If you want pure cotton or linen, consider slipcovers.
Best upholstery for dining-room chairs
Dining-room chairs are used regularly. They need to be hard wearing to cope with the weight of bottoms and stain resistant to cope with spills and smudges. Avoid delicate silks at all costs.
Cottons and linens blended with polyester or viscose give you a natural look and feel but with greater durability. They can be treated with a stain-resistant finish.
Vinyl and leather make stylish and practical options too.
Best upholstery fabrics for sofas
The upholstery fabric for a sofa is a big investment. Go for the wrong material and you may find your sofa covered in snags and stains.
Leather is the ultimate easy-to-maintain upholstery for sofas.
While silk velvets are sumptuous and look stunning, the downside is they stain easily. Instead, look for velvets that are woven from cleanable, high-performance polyester. They resist fading, crushing and stains.
Wool, another natural upholstery fabric, is sturdy and durable but it's hard to clean.
Wool blends (wool is blended with a synthetic fibre) are easier to clean and offer the best resistance to pilling, fading and wrinkling. Wool blends can be spot-cleaned after a spill.
Best upholstery for families with kids
If your furniture is used by children and pets, avoid delicate or textured fabrics. They can pull and aren't forgiving when it comes to stains.
Choose a durable fabric that's easy to maintain and keep clean.
Microfibre fabrics and faux suedes are stain resistant and only require a damp cloth to clean spills.
Aged leather is ideal for a sofa or chairs used by children. Spills and stains can be quickly and easily mopped up. Scratches can be buffed away. Treatment with a leather conditioner once or twice a year keeps the leather soft and supple.
Vinyl is a practical, less expensive option with the similar qualities to leather.
Best upholstery for cats and dogs
If your pets spend time on your upholstered furniture, avoid open weaves that get pulled, snagged and trap animal hair, dander and dirt.
Say no to chenille, velvet, silk and tweed.
Animal hair can be easily vacuumed up from leather or pleather sofas, but they also scratch easily.
Synthetic microfibre doesn't rip or scratch easily. You can remove accumulated hair with a lint brush. Most stains can be removed with mild soap and water.
Denim is a strong and durable upholstery fabric for homes with pets (or children). The tight weave makes it easy to vacuum pet hair. It can be spot-cleaned with water and bicarbonate of soda.
Best upholstery for office furniture
When choosing the best upholstery for office furniture, consider the environment and the conditions under which the furniture will be used. The most common fabric choices are leather, vinyl, breathable mesh and standard cloth fabrics.
Top-grain leather is arguably the most desirable, durable and distinguished. Remember: not all leathers are equal, and it can be sticky in hot or humid settings.
Vinyl wins for practicality because it's easy to wipe down. However, it can also be sweaty.
Synthetic microfibres are good options, as are breathable meshes.
Cleaning upholstery at home
In between professional deep-cleans, it's wise to give your upholstery a regular vacuum.
Brush off loose dirt or spills, and deal with any spills or marks by spot-cleaning as soon as possible. This prevents permanent stains and build-up, which makes the next deep-clean more effective.
Look at the label before you clean in case you need to avoid specific detergents. If in doubt, use only water or a mild detergent like dish soap. Vinegar is a great alternative to detergent. It helps with stains and removes smells.
Be careful not to soak too much water into the upholstery and underlying sponge. This can lead to mould and smells.
Chelsea Cleaning's process for deep-cleaning upholstery
Knowing the easiest upholstery fabrics to keep clean can help you make sensible choices – but even the toughest upholstery requires professional cleaning now and then.
We can revitalise stained, soiled or smelly upholstery using our proven upholstery cleaning method. Our professional process involves four stages:
vacuuming
stain removal
steam cleaning
vacuum and air-drying.
Contact us at Chelsea Cleaning for professional, affordable cleaning of your upholstery, in and around Cape Town.
Contact us now