Textile artist Alexandra Kehayoglou has brought landscapes from her homeland of Argentina to life with huge hand-tufted rugs. Her tapestries recreate land, rocks, rivers and shrubs in incredible detail.
Kehayoglou crafts her landscape rugs from surplus material from Kehayoglou's family factory, which has manufactured machine-made rugs for decades.
Unique and interactive landscape tapestries
At exhibits, many of the landscape rugs are installed partly on the wall, running down onto the floor. This gives them an even more three-dimensional feel.
Visitors are welcome to walk or lie on the parts of the rugs that cover the floor. They can immerse themselves in and "explore" the landscape with their hands and feet.
Santa Cruz River (2016-2017)
Some of the rugs even use interactive props such as a swing to bring the landscapes into a three-dimensional space. Being able to interact with the tapestries also makes them more immersive for the viewer, instead of being just a passive observer.
Places of significance in Argentina
Kehayoglou chose to depict areas of her native Argentina that have a cultural or political significance. For example, one rug entitled No Longer Creek portrays Raggio creek, an area that has been drastically altered and impacted by human action.
No Longer Creek (2016)
Another rug from 2017 is called Santa Cruz River. Kehayoglou created it in response to the proposed construction of two hydroelectric dams on the Santa Cruz River, one of the last completely free wild rivers in Argentina.
Santa Cruz River (2016-2017) detail
Hand-tufted works of art
Hand-tufting is a process of making rugs by hand by punching individual threads of yarn through a base sheet of suitable fabric.
Once the rug is complete, a second sheet is glued on the back to hold the yarn in place.
Hope the voyage is a long one (2016)
Each of Kehayoglou's intricate hand-tufted rugs takes months to complete as she works from drone footage and photography to recreate endangered landscapes as vast, tactile and interactive works of art.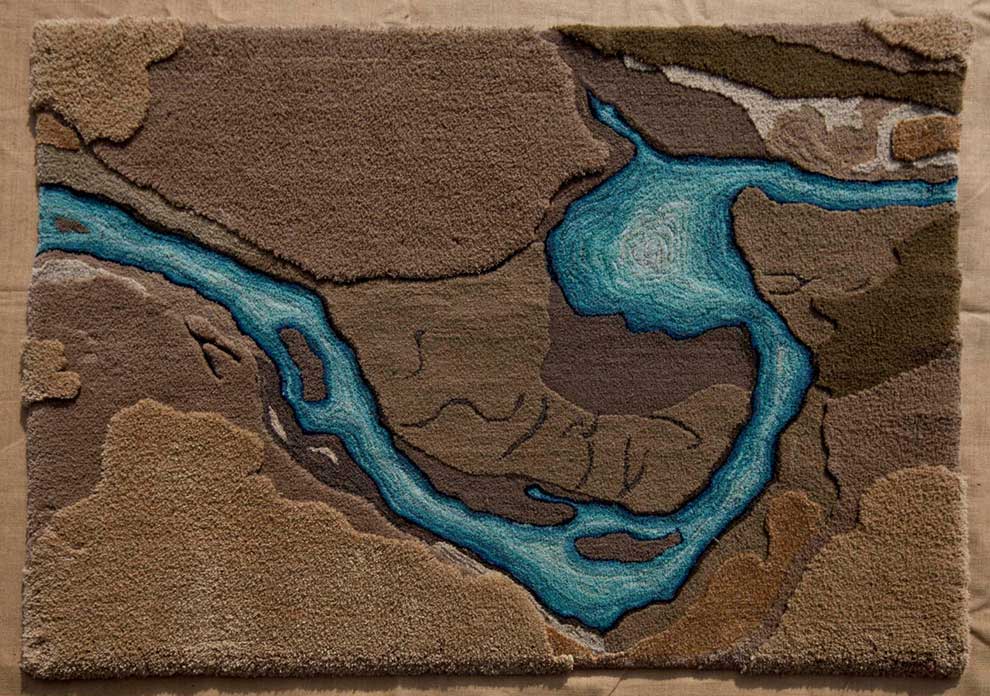 Santa Cruz River II (2017)
We love creative carpets at Chelsea Cleaning but we focus on cleaning them rather than creating them! Proper care and regular cleaning can keep a carpet attractive and extend its lifespan.