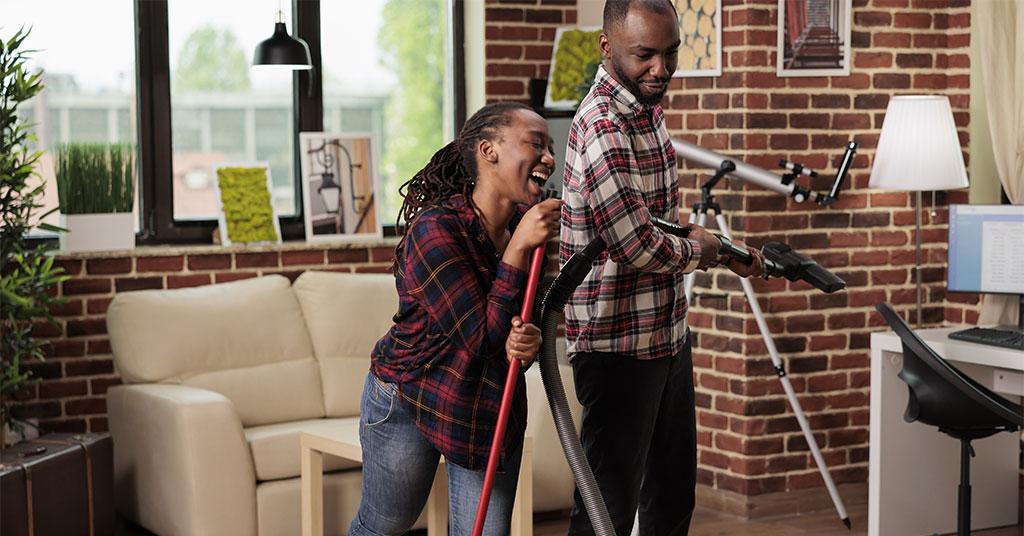 House parties, family get-togethers and braais are great fun, but they can make a significant mess in your home.
Luckily, there are ways to plan a party that will help prevent too much mess or damage.
Party set-up tricks for minimising mess
Setting up for a party is fun, but it can also serve a practical purpose. The way you set up can help prevent mess before your guests even arrive.
1. Make some areas off limits
Contain the mess by keeping the party to one section of the house. Guests need access to the bathroom, but you can close bedroom doors and partition other areas.
2. Use disposable cups, plates and utensils
Many people baulk at disposable items because they're tacky or single-use plastic. Today, there are other options. Consider using compostable bamboo cups, utensils and plates. This will eliminate dishes.
3. Choose your menu wisely
Choose the right menu to help prevent mess. For sit-down meals, avoid hand-held foods or dishes that splatter. For finger foods, choose easy-to-eat, one-bite snacks.
4. Cover tables with cloths and/or plastic
When the party gets boisterous, spills are inevitable. Protect your tables with a tablecloth or a plastic sheet.
5. Put out extra bins
Bins fill up quickly. Your kitchen bin won't be sufficient. Set up temporary bins in the party area, so people have easy access to dump their trash.
Cleaning secrets for parties
Make sure plates and glasses don't pile up during the party. Here are a few tricks for keeping mess to a minimum during the event.
6. Tidy as you go
Unfortunately, hosting a party includes some work even when you're having fun. Try to do a bit of surreptitious tidying up during the party, so things don't pile up. Ask guests to take their empty plates or cups to a designated area or the kitchen, so they aren't strewn around the house.
7. Set up wash basins
Dried-on food and sticky drinks make the dishes a harder task the next day. Ask your guests to put dirty plates, cups and glasses in basins of soapy water.
8. Fill the dishwasher as you go
Make sure the dishwasher is empty beforehand and stack items during the party. This means you can simply push the start button when the party is over.
9. Replenish serviette supplies
Ensure there are plenty of serviettes available throughout the party. They'll come in handy if there's a spill.
Simplifying clean-up after parties
No-one wants to get stuck with a big clean up after a party. These tips will help make the clean-up easier.
10. Rent party supplies
If you're having a large party, consider renting party items, such as wine glasses and table linen. Usually, these items will be delivered and collected after the party with no need to wash them.
11. Send leftovers with your guests
Ask your guests to take leftover food, drinks and decorations, such as centrepieces, home. This will mean less for you to deal with or dispose of after the party.
12. Ask for help
For a big party, it's not out of line to ask your guests to help tidy up. Even if they just collect cans and bottles for the recycling bin. If your guests sleep over, make it a quick clean-up event after breakfast.
Need to clean up after a party or your home just needs a refresh? Chelsea Cleaning offers professional, affordable cleaning of carpets, rugs, upholstery and curtains in and around Cape Town and in the Helderberg area.