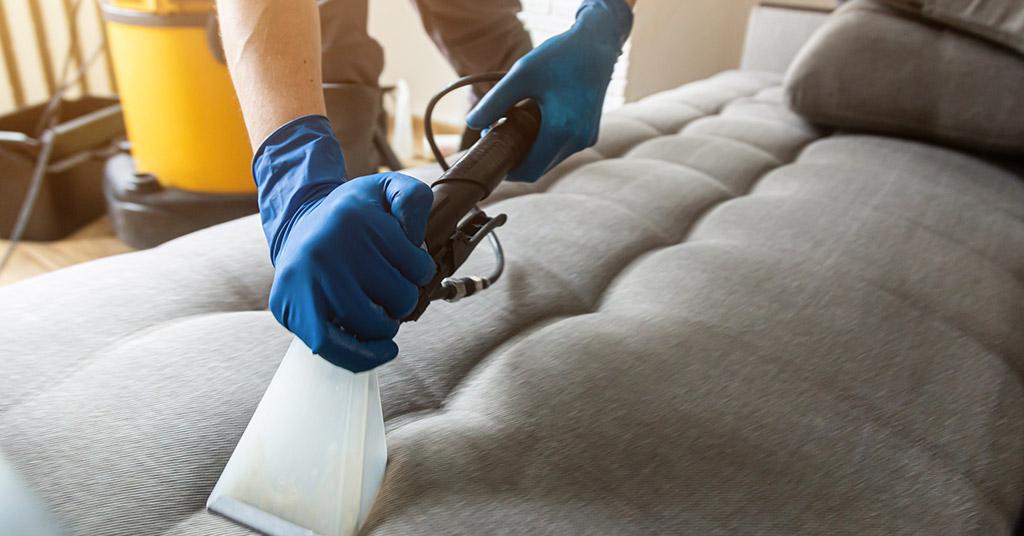 It's always worth deep-cleaning upholstery before you consider replacing dull and dirty furniture.
Dust and grime build up over time, especially if you have children or pets.
A professional deep-clean removes this build-up safely and effectively.
It can revitalise your furniture, brighten colours and lift patterns in the fabric.
What deep-cleaning does that a vacuum doesn't
A proper deep-clean removes dirt deep in the fibres.
Some trapped dirt and debris can pose a health risk.
Deep-cleaning your upholstery accomplishes things that vacuuming can't, such as:
killing mould spores
eliminating allergens like pollen and dander
killing fleas, dust mites and their eggs
removing embedded dirt
removing stains and heavily soiled areas
eliminating odours
extending the life of upholstered furniture
improving the brightness of fabric.
How often should you deep-clean a couch?
Upholstery should be cleaned once or twice a year, depending on use.
Furniture pieces that aren't used as often can be deep-cleaned less frequently.
It's easier to have all your upholstered furniture deep-cleaned at the same time.
If you have pets that are allowed on the furniture or young children, every four to six months is recommended.
Tips for spot cleaning
In between deep-cleans, it's wise to give your upholstery a regular vacuum.
Deal with any spills or marks by spot cleaning as soon as possible.
This prevents permanent stains and build up, which makes the next deep-clean more effective.
Look at the label before you clean in case you need to avoid specific detergents.
If in doubt, use only water or a mild detergent like dish soap.
Vinegar is a great alternative to detergent.
It helps with stains and removes smells.
Be careful not to soak too much water into the upholstery and underlying sponge.
This can lead to mould and smells.
Always brush off loose dirt or spills before spot cleaning.
A good vacuum helps remove excess dirt that can soak further into the fibres.
About our upholstery-cleaning process
At Chelsea Cleaning, our trusted upholstery cleaning method is straightforward but very effective.
We have been successfully cleaning upholstered furniture for more than 30 years.
Step 1
Your upholstered furniture is given a thorough vacuum to remove loose dirt, hair and fibres.
Step 2
A trusted stain-removal solution is applied to stains and heavily soiled areas.
Step 3
The upholstery is steam cleaned with a professional emulsion cleaner.
Step 4
The fabric is vacuumed a final time and left to air dry.
This is the safest way to dry soft furnishings.
If your furniture has loose covers, we can have those collected and cleaned (dry-cleaned or washed) before thoroughly drying and returning them to your home.
To extend the life of your upholstery and to prevent future stains, a blockout fabric protector can be applied after a deep-clean.
At Chelsea Cleaning, we don't upholster furniture, but we do deep-clean upholstery – expertly and at a reasonable price. Contact us for more information or a quotation and we'll be happy to help.
Contact us now