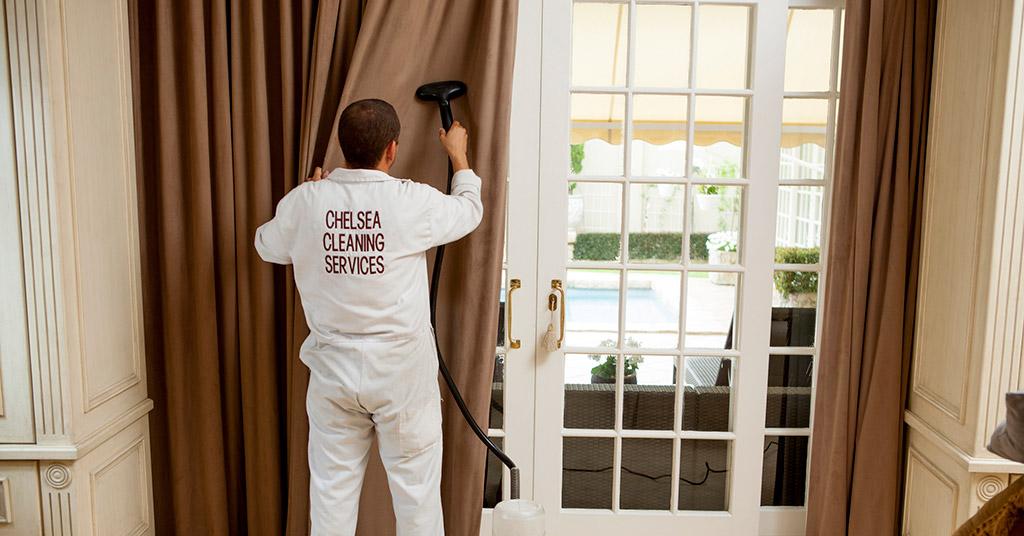 Chelsea Cleaning offers steam-cleaning services in Cape Town and surrounding areas.
A good steam clean can lift the most stubborn dirt, reviving carpets, curtains, mattresses and upholstery. It also disinfects surfaces and kills pests, including dust mites and mould spores.
In this article, we include a short description of each of our steam-cleaning services, along with a steam-cleaning FAQ.
Steam cleaning carpets
Carpets take a lot of strain with constant walking and tracking in mud and dirt from outside. They can get particularly grubby if you have children or pets.
Steam cleaning lifts dirt deeply embedded in the carpet fibres without causing damage or discolouration.
When we clean a carpet, we start by thoroughly vacuuming with a steam cleaner before spot cleaning any oil or grease stains.
We clean the carpet with a non-residue formula. Finally, we vacuum it again and leave it to air dry.
Steam cleaning upholstery
Steam cleaning is a great way to clean upholstery because it doesn't saturate the padding or sponge underneath. Steam cleaning allows thorough cleaning even without removable furniture covers.
Our upholstery steam cleaning follows a four-step process:
vacuum
spot clean any heavily soiled areas
steam clean the upholstery with an emulsion cleaner
vacuum again and leave to air dry.
Steam cleaning curtains
Curtains pick up a lot of dust, mould and pollen through open windows.
Steam cleaning curtains removes dirt and kills mould spores. This is important for curtains in bedrooms where allergens can cause sinus and respiratory issues.
For curtain cleaning, our team removes the curtains before washing them at our premises.
The curtains are then steam cleaned. This helps remove creases before being transported back to your home for rehanging.
Steam cleaning mattresses
Mattresses can accumulate dust mites and bed bugs if they aren't thoroughly cleaned at least once a year.
Mould and allergens from pets are also a problem. If a child or pet accident happens, steam cleaning is a great way to remove stains and odours.
We start our mattress-cleaning process with a high-powered vacuum.
Then we use a stain remover and emulsion cleaner for any soiled areas before steam cleaning the entire mattress to eliminate mould and dust mites. Finally, we vacuum again and let the mattress air dry.
Steam cleaning FAQ
In this section, we answer some of the most commonly asked questions about our steam-cleaning services.
What does steam cleaning involve?
Steam cleaning uses high-temperature water vapour to clean.
The steam is sent deep into the fibres of the carpet or upholstery. It is then extracted by vacuum.
This deep cleaning extracts dirt, oils and other stains that are ingrained in the fibres, without the need for harsh chemicals.
Is steam cleaning safe for all fabrics?
Certain fabrics and sensitive fibres won't handle the extreme heat of steam cleaning but these are fairly rare. If in doubt, ask a professional carpet cleaner for advice.
Does steam cleaning really sanitise?
Steam is incredibly hot. It kills 99% of germs and viruses with about three minutes of sustained contact.
Steam also helps eliminate mould spores and reduces allergens in carpet and upholstery fibres.
Is steam cleaning better than shampooing carpet?
Steam cleaning can be a lot more effective than shampooing, depending on the level of soiling.
Steam cleaning uses less water than shampooing so your carpets take less time to dry. It also leaves no residue, which is a risk with shampooing.
Where are Chelsea Cleaning's steam-cleaning services available in the Cape?
Chelsea Cleaning offers steam-cleaning services in the greater Cape Town and Helderberg areas. We also offer other cleaning services, such as rug washing and cleaning of Roman blinds.
Contact us for more information or a quotation and we'll be happy to help.
Contact us now