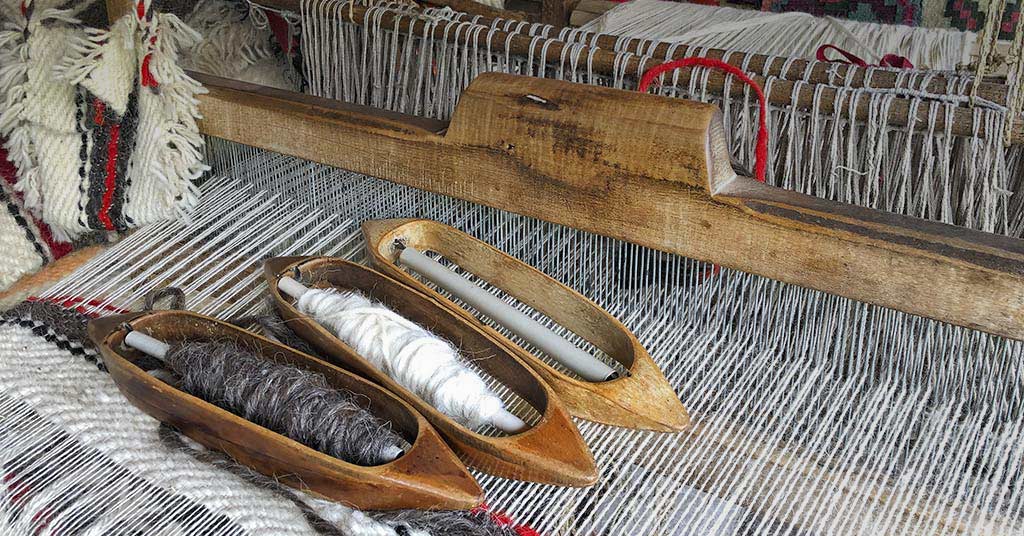 Historically, South Africa doesn't have a strong carpet-making tradition. In fact, with the exception of countries in North Africa – most notably Morocco, Tunisia and Egypt – nowhere in Africa is especially well known for carpet making. With these countries' predominantly warm climates, this may be little wonder.
More recently, however, a number of South African entrepreneurs and local businesses have started designing and weaving uniquely African carpets by hand, and demand for these carpets is rising steadily.
The Handwoven Rug Company
Since 2003, The Handwoven Rug Company has been weaving custom-designed rugs using both wool and leather. Many of these rugs draw on traditional African designs and feature warm African colours.
The company's woollen rugs are created from scratch, starting with unprocessed wool that is spun into yarn and then woven using a fine weave technique.
The flat weave leather rugs are made from soft leather strips. They need less maintenance and are easier to wash than woollen rugs. Because they trap less dirt and dander, they're also the better option for allergy sufferers.
The Handwoven Rug Company was founded by Pierre Tromp, who has been in the carpet industry since 1998. "What attracts me to designing rugs are the limitless possibilities in terms of scale, texture and colour. A rug can be a bold statement, a focal point, a hint of colour or blend effortlessly into its surroundings," he says.
Frances V.H
Frances V.H handwoven, mohair rugs are inspired by the colours and textures of the Karoo. Every step involved in making these soft, mohair rugs is completed by hand, from spinning and dyeing the yarn to trimming the finished rugs.
Frances van Hasselt's family owns one of the oldest mohair studs in the world, making mohair the natural choice of textile for Frances's handcrafted rugs. While travelling and working in the fashion industry, Frances came to realise how relatively unknown mohair was in the rest of the world.
Her designs are inspired by the landscapes of the Karoo. "I want to replicate its dusty plains, the rich colours of delicate vegetation, its textured landscapes and crisp lights," she told Visi Magazine.
Coral & Hive
Coral & Hive weaves rugs using natural fibres such as karakul, wool, mohair, hemp, cotton and even bamboo. Their highly skilled and experienced weavers are from all over South Africa.
Their unique and subtle designs are custom-made for clients.
Jeannine Birch started Coral & Hive to showcase beautiful handwoven African carpets. "I was hooked the minute I watched the ladies softly singing as they patiently weave the designs on big wooden looms."
Elsa Barnard
Elsa Barnard Mohair Carpets has been weaving mohair carpets in Dimbaza in the Eastern Cape for upwards of 35 years. Selina Radebe, Elsa's partner in the business, personally oversees the weaving to ensure the highest quality.
All their mohair is hand-spun into the slightly irregular yarn that gives handwoven carpets their distinctive texture. The yarn is then hand-dyed using Lanaset dyes from Switzerland. Mohair is known for holding colour well, allowing the carpets to feature vivid colours and patterns.
Even the finishing is done by hand. The finished carpets are skilfully shorn, straightened, knotted off and tasselled before being dispatched. Mohair is hardwearing, long-lasting and retains its shape even after many years of wear.
What we offer at Chelsea Cleaning
At Chelsea Cleaning, we don't make or sell handmade African rugs, but we do love carpets!
Drawing on three decades of experience, we offer affordable, professional cleaning of carpets and rugs in the greater Cape Town and Helderberg areas.
Contact us for more information or a quotation.
Contact us now