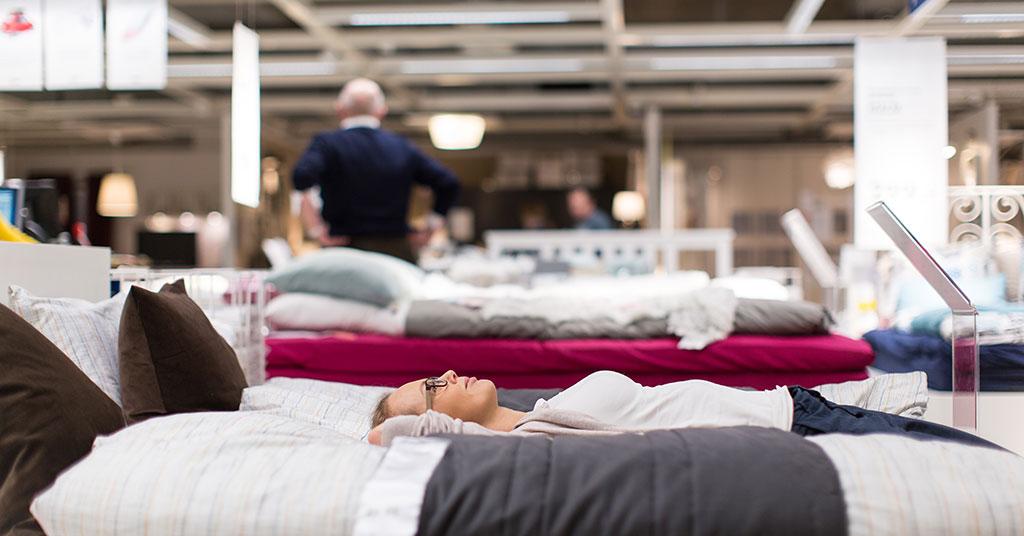 We spend more than a third of our lives in bed. This is where we rest, relax, sleep and feel safe and snug. Because bed is important to us – and because good mattresses today are far from cheap – it's worth considering what to look for when you buy a new one.
Mattress myths
First, we explain some potentially misleading marketing terms common in the mattress industry.
You might have heard the term "no-turn mattress". So what does this mean? Well, you don't have to turn the mattress to ensure even wear and tear because only one side of the mattress is properly padded, with a latex or memory foam layer.
Second, a "lifetime warranty" doesn't mean your mattress is covered for a lifetime. It means that if there are any manufacturing defects, the mattress will be replaced. The warranty doesn't apply to normal wear and tear, or to any damage that you or pets cause. Over a decade or so, you'll probably have to change your mattress due to normal wear and tear.
Last, it's worth mentioning that generally, a new mattress won't instantly give your body the support it needs. The base material has to mould itself around your body first, and it can take a few weeks before you enjoy the full benefit of a comfortable and supportive new mattress.
Types of mattresses
In South Africa, you have a choice of four main types of mattresses.
Continuous coil
A continuous coil mattress is constructed from a single, continuous length of wire, coiled into a series of supportive springs or coils. It's one of the cheapest options, and, depending on the size, currently retails at around R4 000 to R7 000.
This type of mattress is comparatively light and easy to turn. It's usually filled with high-density foam for added comfort and support.
Best for: children and adults weighing less than 100 kg, or for occasional use in a guest room or second bedroom.
Pocket spring
Pocket spring mattresses comprise dozens of thin-gauge, knotless coils individually wrapped in fabric pockets. The springs aren't wired together. They work independently, allowing for more flexibility and support, and preventing transfer of movement between sleeping partners.
Prices range from R7 000 to R12 000, depending on the make, model and size.
Best for: just about anybody – pocket spring mattresses cater for different body weights, shapes and sizes, and provide good support and comfort levels.
Latex
Latex mattresses are firm, solid, well ventilated and particularly durable. Body contouring capabilities provide increased comfort and support, and prevent discomfort due to pressure points.
The density of the latex foam determines the firmness of the mattress, so you can decide whether you want a 'gentle firm', 'firm' or 'extra firm' mattress.
Latex doesn't transfer motion. Also, natural latex is resistant to dust mites, mould and mildew.
Latex mattresses can cost you up to R35 000, so they come at a price.
Best for: anybody who is looking for advanced comfort and support, along with zero motion transfer.
Memory foam
A memory foam mattress forms contours around your body shape to provide incomparable comfort and support. Partner-related sleep disturbance is non-existent, and the mattresses are specifically designed to prevent back pain.
The foam is highly responsive to temperature, which can be a problem for people who get hot in bed.
This type of mattress has a longer lifespan to conventional coil mattresses and, as with latex, the foam holds its shape.
Memory foam mattresses come with a similar price tags to latex mattresses.
Best for: people who need added support, particularly those who have lower back pain.
What comfort level do you need?
The level of comfort you require is largely determined by your sleeping position. If you're a side sleeper, a soft continuous coil or pocket spring mattress will do, as your natural sleeping position supports your spine.
Back sleepers should opt for a medium firm mattress, either memory foam or pocket spring, as extra lower back support is essential. Front sleepers are ideally suited to firm mattresses, whether latex, pocket spring or foam, as you'll enjoy optimal back support, while avoiding the slight sinkage associated with softer mattresses.
If you constantly change position in bed, a medium-soft pocket spring or memory foam is your best bet. It will offer slightly more support, but allow for the flexibility of body movement.
Professional cleaning of mattresses
You can prolong the life of your mattress and ensure it's hygienic, pleasant smelling and free of mites and pathogens by having it professionally cleaned.
So rather than buying new, you may choose to rescue and revive your existing mattress!
At Chelsea Cleaning, we offer a professional mattress cleaning service that includes:
high-power vacuuming
use of industry-leading stain removal formulas and emulsion cleaners to treat soiled areas
a steam clean that uses hot water extraction
a final vacuum and air drying.