Fitted carpets must be cleaned on-site in the home or office. Loose carpets and rugs can be deep cleaned at our factory.
Giving your rugs a deep clean every year will improve their appearance and extend their lifespan.
We can clean a variety of loose rugs including Persian carpets, oriental rugs, flokatis, shaggys, kelims, durries and thick woollen rugs.
Below, we cover:
How off-site rug cleaning works
Off-site rug cleaning involves minimal disruption to your home or office. We collect your rugs at a time that's convenient and take them back to our factory.
There, we thoroughly beat them and then clean them in a wash pond. Once they're completely dry, we package them to prevent any marking on the way back.
We then deliver your clean and dry rugs back to your home or office at a convenient time. All you need to do it lay them out again – bright, clean and refreshed.
Advantages of off-site rug cleaning
Offering rug cleaning off-site means that our team doesn't need to access your premises. There's no disruption to your home life or work in the case of a business.
Cleaning a rug is a big job that can't be tackled without specialised equipment. With off-site rug cleaning, our factory is equipped with everything we need to ensure fast and satisfactory results.
Off-site rug cleaning is very convenient because there's no need to set aside time for cleaning. It can be done at any time without any inconvenience.
Steps in our off-site rug cleaning process
Our rug cleaning process is straightforward and effective. We've perfected it over many years to ensure the best possible results without putting unnecessary strain on the rug fibres and colours.
Step 1. Beating
After collection, we beat any loose debris, pet hair, sand or dust from the carpet with our Rugmaster machine. The machine is designed to loosen deeply ingrained dirt without stretching or pulling the rub skew.
For some rugs, this process is done by hand either because they're sensitive or because their fibres are too long for the Rugmaster.
Step 2. Spot cleaning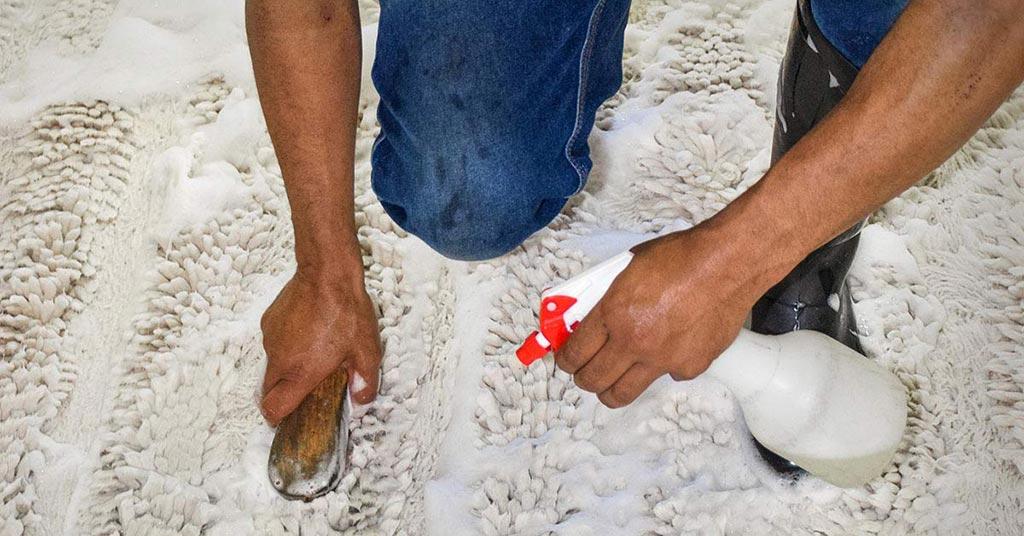 We then spot clean any marks or stains by hand with an appropriate stain remover. We only use detergents that are safe for the type of carpet you have.
Step 3. Cleaning and rinsing
The rug is cleaned in our wash pond. This process is done by hand to ensure a good clean without damaging the carpet. The rug is thoroughly rinsed to ensure there's no detergent residue.
Step 4. Spinning
To remove excess water, the rugs are spun in a specialised centrifuge. This removes up to 95% of the moisture. The machine is designed to control the spin of the rolled-up rug, so there's no risk of warping or stretching.
Step 5. Drying and packaging
Finally, we air-dry your rug. This allows us to inspect the rug and make sure all the dirt and marks are gone. It also allows the fibres to re-fluff in the open air.
Once completely dry, the rug is wrapped to protect it and delivered back to your home or office.
Other services by Chelsea Cleaning
At Chelsea Cleaning, we have many decades of experience cleaning household soft furnishings. We specialise in deep cleaning fitted carpets, rugs, curtains, mattresses, upholstery and Roman blinds.
We offer affordable off-site rug cleaning and other cleaning services in the greater Cape Town, including the West Coast, Helderberg and the Peninsula.
Need help with off-site rug cleaning? We can collect your loose rugs and carpets for a professional, affordable clean at our Cape Town factory. Contact us for more information or a quotation, and we'll be happy to help.
Contact us now