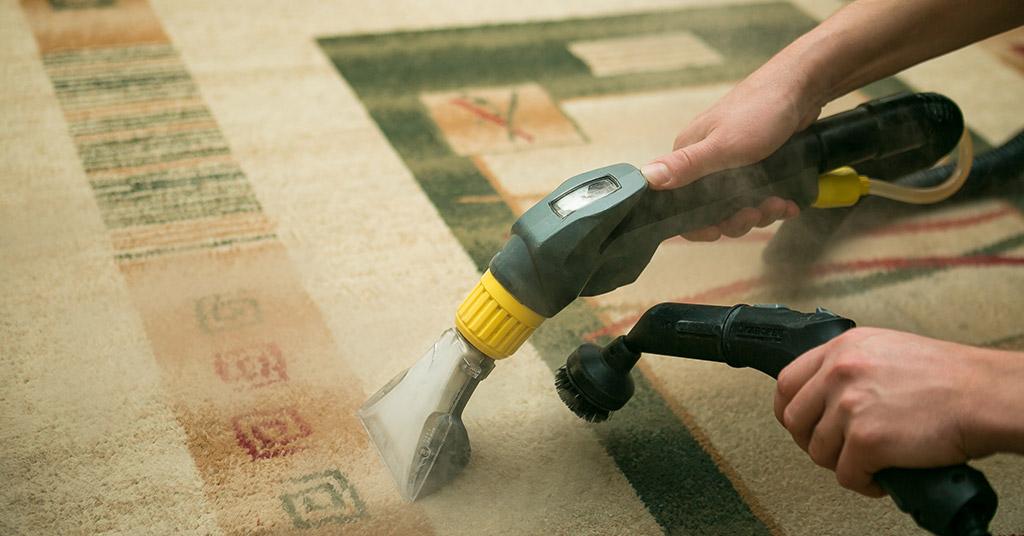 If you're considering getting your carpets cleaned, you may be wondering whether steam cleaning or dry cleaning is best.
In fact, there's a place for both. The method you should choose depends on your carpets and circumstances.
Here are the pros and cons of steam cleaning versus dry cleaning. It will help you work out which is best for your carpets.
Steam cleaning carpets
Steam cleaning isn't accurately named. There's little or no steam involved in the process.
The name hot-water extraction better describes the process because it's hot water that extracts dirt and spills from carpets.
First, carpets are vacuumed to remove dust and debris. At Chelsea Cleaning, we then use a variety of stain-removal products on stubborn stains.
High-traffic areas may be treated with a chemical spray before hot water is injected into the carpet at high pressure. At Chelsea Cleaning, we use a non-residue carpet cleaning formula.
When the hot water is extracted, it brings with it all the embedded dirt and grime. Carpets are vacuumed again before being left to air dry.
Dry carpet cleaning
A few processes fall under the dry cleaning category. They differ slightly but all involve sprinkling or spraying chemicals or crystals onto carpets. They contain an absorbent carrier, detergent and solvent that breaks up stains and dirt.
A small amount of water or liquid is used, but much less than steam cleaning. The carpet is then vacuumed to remove the cleaner and the water.
Which is best?
The carpets in most homes take a pounding from numerous sources, from pets to people, spilled food to dirty feet. It's important to remember that the quality of any clean will depend on who does it (a professional vs a homeowner), the equipment and the cleaning products used.
Here are the pros and cons of steam cleaning and dry cleaning, so you'll know the best way to clean your carpets.
Pros of steam cleaning
There are several reasons to choose steam cleaning. Firstly, it's the most thorough method and is the method recommended by most carpet manufacturers.
Steam cleaning removes deep-down stains, dirt and grime. It kills bacteria and removes dust mites, allergens, mould, pet dander and odours.
Normally, harsh chemicals aren't used. At Chelsea Cleaning, we use cleaning solutions that are non-toxic and hypoallergenic.
When experienced professionals steam clean a carpet, it normally looks like new.
Cons of steam cleaning
The main disadvantage of steam cleaning is that carpets must dry out before being walked on. This can take a few hours. If it takes more than 24 hours, too much water has been used during the clean.
To speed up the drying process, turn on heaters and open windows and doors to improve airflow.
A second disadvantage is that furniture must be moved before the clean and replaced only when the carpet is dry.
For a deep steam clean, you need specialist equipment. You can hire steam cleaners, but professional cleaners use the best equipment and do the work for you with expertise.
Pros of dry cleaning
This method is popular in high-traffic areas such as offices and hotel foyers because carpets can be cleaned relatively quickly. The drying time is short as so little water is used.
Dry cleaning can be a good process to spot-treat stubborn areas of carpet in the home that frequently get soiled.
Cons of dry cleaning
Dry cleaning doesn't provide the deep clean that steam cleaning does. For this reason, it's best used for maintenance, which is why it's popular in buildings with high traffic.
The process uses chemicals and perfumes, so people with allergies or sensitivities may be concerned about reactions to the solvents and perfumes.
Chelsea Cleaning cleans both fitted carpeting and rugs
It doesn't take much to make carpets look dirty and tired. At Chelsea Cleaning, our experienced staff can make your fitted carpets and rugs look like new.
Fitted carpets
We have been cleaning carpets for more than three decades, so we know how to get even the most stubborn stains out of fitted carpets.
Our team of experienced, secure, uniformed staff place special focus on heavy-traffic areas and stains in our four-step process.
Loose carpets and rugs
We specialise in cleaning all loose rugs and carpets, from precious Persians to kelims and flokatis. Our processes are carefully designed to ensure that your carpets don't shrink, fade or suffer other damage during the cleaning process.
Each rug undergoes up to five stages at our facility, which includes a state-of-the-art centrifuge that removes up to 95% of water.
Chelsea Cleaning takes the work out of cleaning rugs
At Chelsea Cleaning, we know whether your carpets should be steam cleaned or dry cleaned. We expertly clean all types of carpets and rugs in the greater Cape Town and Helderberg areas.