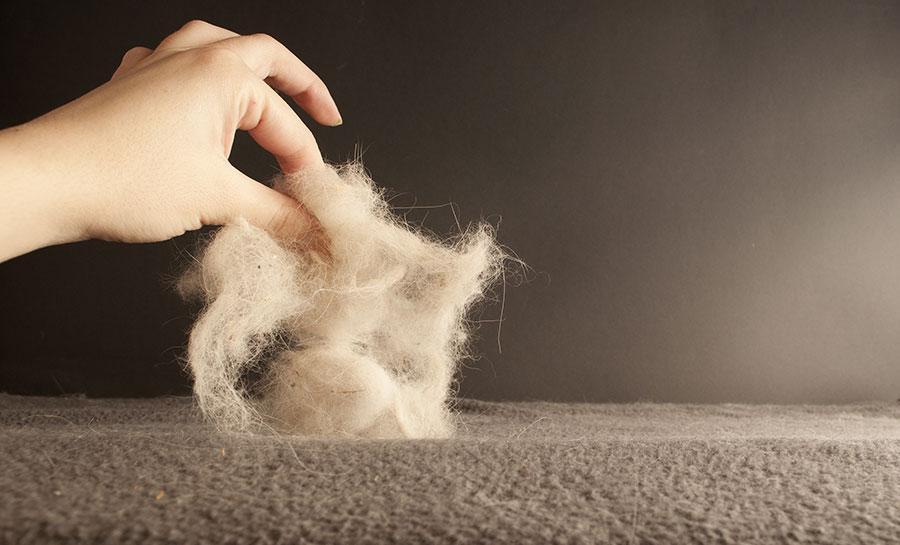 Dealing with shed hair is part of pet ownership, but removing it from floors and furniture can be a nightmare. No matter how often you sweep and vacuum, the shedding and cleaning can seem never-ending!
The best way to cope with pet hair in the home is to brush your pets and clean your house regularly. Making use of the most effective cleaning techniques will allow you to keep the pet hair under control, without banishing your furry friends from the house.
Clever solution for floors
To stop pet hair from accumulating on floors, most people resort to regular sweeping and vacuuming. However, brooms and vacuums aren't the most effective tools for picking up pet hair. This is because they scatter hair around as they go. Instead, try using an electrostatic dust mop – the electrostatic charge attracts and holds the hair for easy removal.
Ridding carpets and rugs of pet hair
Aim to vacuum your carpets two or more times a week. Pet hairs and dander can easily become embedded in carpet fibres and can be a pain to remove – especially if you don't clean regularly.
Try sprinkling baking soda on a  carpet before vacuuming it to loosen pet hair from the fibres and deodorise the carpet simultaneously.
When vacuuming a carpet or rug, make sure that you vacuum in all directions – north to south, and east to west – and then again at an angle to pick up as much hair as possible. Vacuum slowly to ensure that you do a thorough job.
Another option for cleaning pet hair from rugs and carpets is to use a rubber broom to create an electrostatic charge. Use the broom in fast, short strokes to grab as much hair as possible. You can also dampen a rubber glove and run it across the carpet in short strokes to pick up pet hair.
Cleaning pet hair from room edges
Room edges can be hard to reach with a vacuum or an electrostatic mop, and dirt tends to collect here if left unchecked. Try using a ball of masking tape, a velcro hair roller or a damp rubber glove to remove pet hair from hard-to-reach crevices.
Removing pet hair from furniture
Before tackling pet hair on furniture, vacuum or sweep the floors first.
Use a damp (not wet) microfibre cloth to remove hair from non-upholstered furniture such as glass and wood – the  electrostatic charge created by the cloth should do a good job of catching those pesky hairs.
For upholstered furniture, an electrostatic charge works wonders too. Run a damp rubber glove over your upholstered furniture to lift pet hair off the surface. You can also vacuum upholstery, use a lint roller to pick up pet hair or wrap masking tape around your hand and dab at the hair to peel it off the upholstery.
Pets and periodic deep cleaning
If you have pets, it's especially important to have your carpets, curtains and upholstery deep-cleaned a few times a year. This will help remove not just pet hair but pet dander, along with unwanted creatures – like dust mites and bed bugs – that feed on it.
For professional deep cleaning of your carpets, loose rugs, curtains, mattresses and upholstery, contact us at Chelsea Cleaning and we'll be delighted to help. Contact us now for professional cleaning in Cape Town
Contact us now